Learn more about the lovely Aisha Adams as she talks about herself, her work in kink and fetish, and talks about her relationship with tickling.
Follow her on Twitter: @alishaxadamsgm1
Check out all her links!
Alisha is placed in the Hollywood Laughter stocks for some special attention. Her size eight feet is probably her most ticklish feature. Her toes are tied and she is tickled with a variety of implements to get her to squirm and laugh before your eyes tantalizing your senses with her smooth soles. Feathers, fingers, electric cleaning instruments, and various scrubbers are used on lubed and unlubed feet.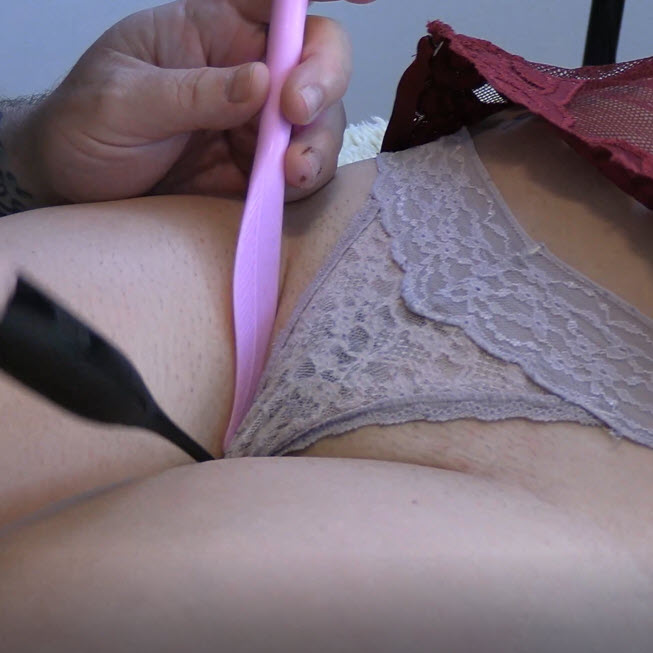 Alisha is wearing adorable pink panties as she is tickled with a variety of tools on her inner thighs, pubis-mons, and pussy with a variety of tools and instruments including the dreaded Robo-Feather. Bound in place she can only laugh and squirm as she is teased and tormented.
Coming June 11th

With her hands bound behind her in a pillowcase her upper body is laid bare and helpless to my machinations. Alisha is tickled on her neck, underarms, ribs, belly, breasts, and hips. The sonic flosser is devastating on her nipples and her breasts are super sensitive to tickling techniques. She starts to wonder what she got herself into as she struggles to avoid touches that send her into squeals of laughter.
Coming June 13th

Unbound Alisha is kneeling on the massage table with her luscious ass facing the camera. You can see her booty wiggle and shake as she is tormented with tickling, forced to endure and keep her position. A variety of tools are used to tickle her ass, sides, and feet all while you look at her ass and pussy staring you in the face daring you to crave for more decadent teasing.
Coming June 15th