Anna is new the the world of fetish modeling, but not too new to the world of kink. Anna is very sensitive on her body with her size six extra wide feet being especially ticklish. Anna begs for me to make her cum after being nearly exhausted from tickling.

Anna's Pre-tickling Interview
and
Anna's Post Tickling Interview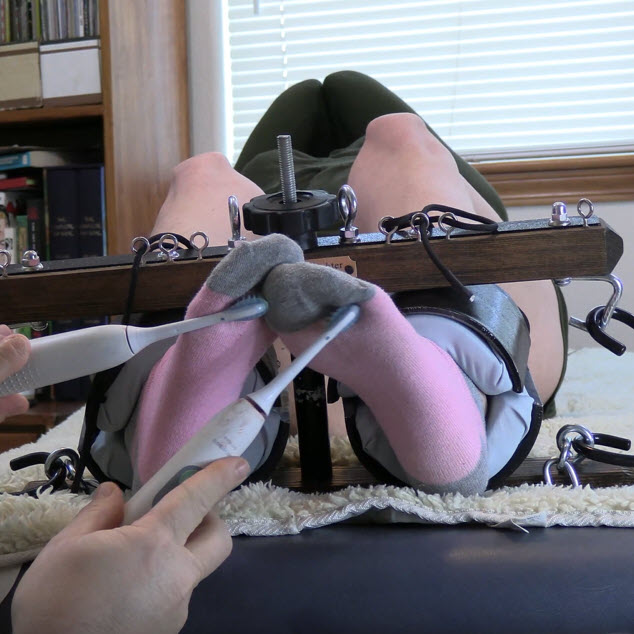 Anna is new to fetish modeling, but not too new to kink. This waif of a sub has placed her feet in the stocks. Her soft socks are no protection for her incredibly sensitive feet. Anna knew her feet were ticklish and she is about to learn just how ticklish they are. Listen to her squeal, laugh, and beg as fingers and electric toothbrushes explore her secure and vulnerable feet through adorable socks.
(release date 2022-03-12)
The socks have come off exposing her size six extra wide soles, toes tied and pulled back. She cries out and struggles decrying how sensitive her wrinkled soles. She is tickled and nibbled along her toes and soles until she is out of her mind with laughter. Feathers stroke her wrinkles and toes as well as fingers, brushes, and the robo-feather. Once the lube is applied the sensitivity goes off the scale and she loses her mind in the tickling sensations.
(release date 2022-03-14)
Anna is tied with her hands over her head on the massage table. In the beginning she is wearing her bra but soon she is topless. Anna is tickled with fingers, feathers, robo-feather, brushes, etc on her helpless body. Her breasts jiggle as her underarms are tickled. She moans with pleasure and laughter as robo-feather tickles near her sensitive pussy. She is tickled to hysterics until she admits she is a tickle toy and begs for the sweet release of an orgasm.
(release date 2022-03-16)
Anna is now naked on the massage table. A variety of techniques are used to tickle her while playing with her throbbing pussy. She is tickled, humbled, and desperate to have an orgasm. Anna is tickle tormented on her body and pussy sometimes at the same time. The teasing of her labia and clitoris drive her to new heights of being horny while simultaneously laughing in hysterics. When she is brought to orgasm it is a huge relief for her. She lays there panting and thanking me for the amazing orgasm.
(release date 2022-03-18)
Anna is bound by plastic wrap to the massage table with her feet elevated to give a good view of those soft ticklish size six extra wide soles. There are two camera angles for this shoot. The first being head on towards her soles and the second up and at an angle so you can have a better view of her reactions. Her wrinkled soles are tickled and tormented with fingers, feathers, various toys including the purefection sonic flosser. Her soft feet are tickled with and without lube as she bursts into hysterical laughter with the tickling as she is teased without mercy.
(release date 2022-04-04)
This clip focuses on Anna's sensitive inner thighs as she is tickled with feathers, fingers, tongue, robofeather, and the like. There is a good amount of tickling near her sensitive pussy and directly on it as she moans and laughs with the tickling torment that she cannot escape from. She is getting very wet and turned on by the tickling and despite her squirming and laughing she doesn't want it to stop.
(release date 2022-04-06)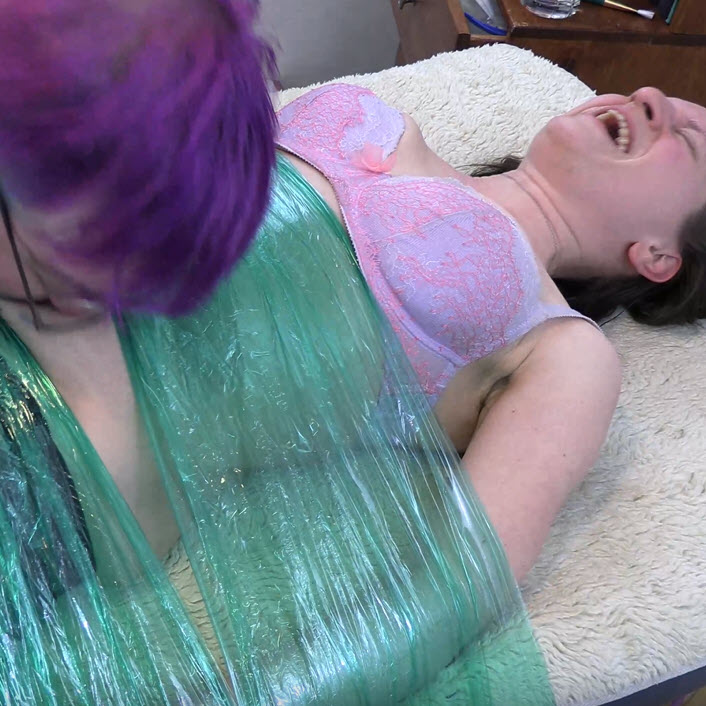 This clip is a must have for the tickling belly enthusiasts out there. Anna is tickled on her belly, sides, just above her pelvic bone, and of course a good amount of belly button tickling. She is tickled with fingers, feathers, tongue, and robofeather as her belly jiggles about with helpless laughter as she is tickled and teased.
(release date 2022-04-08)
In this extremely hot clip Anna is hogtied on the floor and is at the mercy of my tickling machinations. Using various instruments and fingers Anna is tickled nearly non stop as she squirms about the floor howling in laughter. She is made to admit she is your tickle toy. As the tickling on her feet, sides, underarms, inner thighs, and pussy continues she admits how much she loves tickling and begs you to tickle her more. "It feels good!" she cries out between howls of laughter as this horny lady is tickled out of her mind.
(release date 2022-04-10)