Autumn Hart is an experienced model and has been involved in the kink community and content production for several years.

During this shoot she learned she had a new fetish that turned her on, tickling. She had no idea that tickling would get her so hot and bothered.
Autumn also is a fan of DDLG and is an adorable little.

This lovely plus sized doll has size 10 feet.
Check out her Only Fans
Onlyfans.com/xoautumnhartxo
Follow her on Twitter
@xoautumnhartxo
Autumn Hart is interviewed about her interests in kink, her thoughts on tickling, and a little more about this sexy BBW.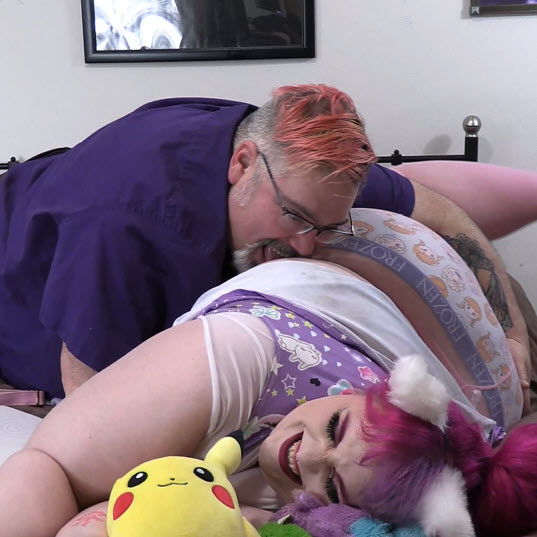 This lovely babygirl is happily sitting in bed drawing shapes with her stuffies about her and a full set of art supplies. Stepdad has other plans for this little one as he joins her in bed and beings to explore the adorable body of this ticklish BBW babygirl. He tickles her little feet with the pink socks on, her ribs, her amble belly, neck, underarms and more. Soon the socks come off and just those sensitive feet in stockings are subject to step dad's tickling fingers. Autumn Hart squirms, squeals, and wiggles about the bed begging her step dad to stop tickling her.
(release date 2022-03-20)
Autumn Hart's stepfather has decided that this little one needs a little more restraint in order to properly tickle those small and sensitive feet of hers. Her feet are placed in the stocks and tickled with fingers, electric toothbrushes, and robo-feather. She giggles and begs as he takes advantage of this helpless little one. There are even a few raspberries thrown in for good measure on that ample belly.
(release date 2022-03-22)
Autumn Hart is topless, her large belly exposed and her huge breasts free to wiggle and jiggle as stepdad teases her. This is a more erotic style of tickling where tickles are interspersed with erotic strokes on her exposed skin. Tickling areas include breasts, neck, ribs, ass, belly, thighs, armpits, pussy, back, and feet. There is a lot of dialogue teasing this little one. If you are a fan of DDLG this clip is a must have! Babygirl exclaims that stepdad has tricked her, but really is it a trick or is it more of a treat?
(release date 2022-03-24)