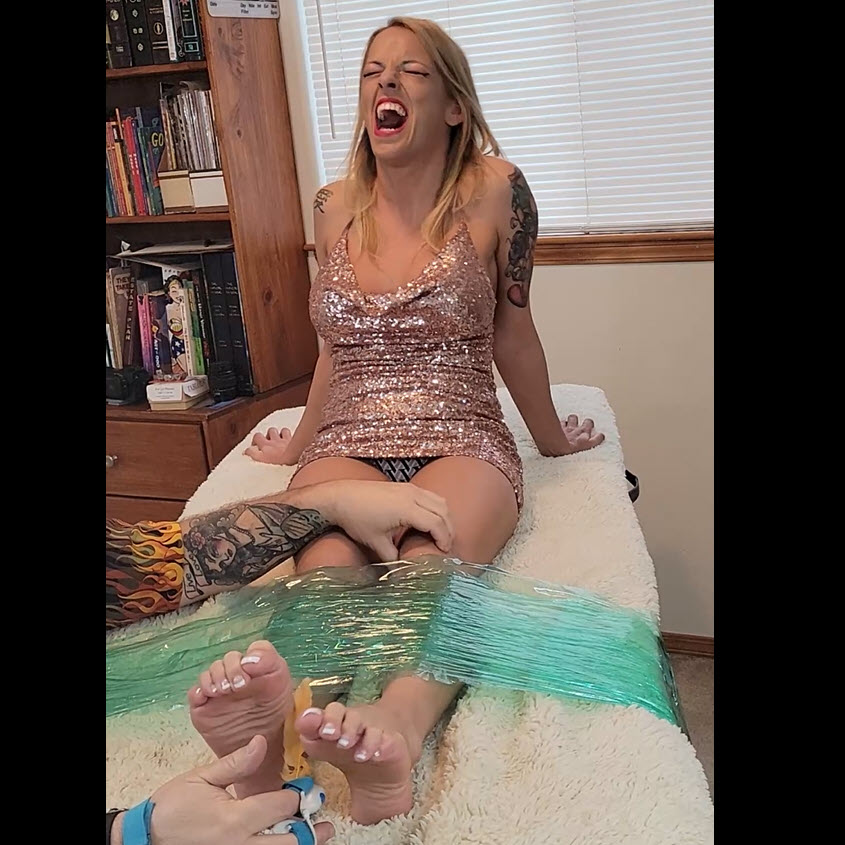 Bella Ink is an established model in the fetish and bondage industry based out of Florida. She travels the country doing shoots and private sessions involving a number of kinks and interests.
She is very strong and part of her work involves wrestling. Bella can lift and carry an opponent that outweighs herself.
Bella is also known for being insanely ticklish over her entire body. When tickled she squirms and repeatedly begs for mercy. She loves being tickled just not tickled abuse. Her ticklishness goes all the way to 11!
Bella Ink's
Pre-tickling Interview

Bella Ink's Sitting Foot Tickle
Bella Ink is sitting up on the massage table with her legs stretched forward bound by plastic wrap in her sparkling outfit. Her disco shoes are removed revealing her soft tender soles to you. She descends into chaotic laughter as she is tickled on her feet with a variety of tools, fingers, teeth, and tongue.

Bella Ink's JOI While being Tickled

Bella is sitting up on the massage table with her legs bound by plastic wrap in her sparkling outfit. She attempts to instruct her viewers to masturbate as she is being tickled. She struggles to gets the words and gestures out as she is so ticklish. She knows the male identified viewers have a hard on for her right now and she doesn't want them to cum until she gives the word. Watch her struggle as she tries to help you get off.

Bella Ink's Propped Up Foot Tickle
Bella has been moved to the bed with her feet propped up on a cushion to give the audience a clear view of her feet and body so they can see her reactions. Dressed in a hot little red number her shoes are removed and her sensitive soles are exposed and right in your face as they are tickled with a variety of tools with or without lube. The vibrating finger toy is strapped to two of her toes as she howls with laughter as her tormentor can focus both hands on her. Watch her bounce, beg, and plead.

Bella Ink's Upper Body Tickle
Taking a view from the side Bella's upper body and ass are vulnerable to tickle torment. Her tormentor runs a variety of tools, fingers over her tight hot little body causing her to shriek and squirm begging for the tickling to stop and lamenting on her situation. She is rolled on her side and her tight ass is tickled as she struggles to get away from the light touches.

Bella Ink's Topless Tickle
Still panting from the last tickling her red top is removed revealing her gorgeous breasts for you. The tickling continues on her upper body and breasts. Her breasts bounce and jiggle as she squirms and cries out for mercy with cries of "please…please!" as she laughs harder and harder. At one point she begs for her feet to be tickled instead of her incredibly sensitive armpits.

Bella Ink's
Post Tickling Interview