Caroline is a sexy bikini barista I met at the drive-thru. When I talked to her about my day and editing my content she was intrigued. She is naturally submissive and was very interested in shooting a video. I received an email from her and we set up a time to shoot. She is quite submissive, kinky, and hella ticklish. She talks about her experience before and after the shoot.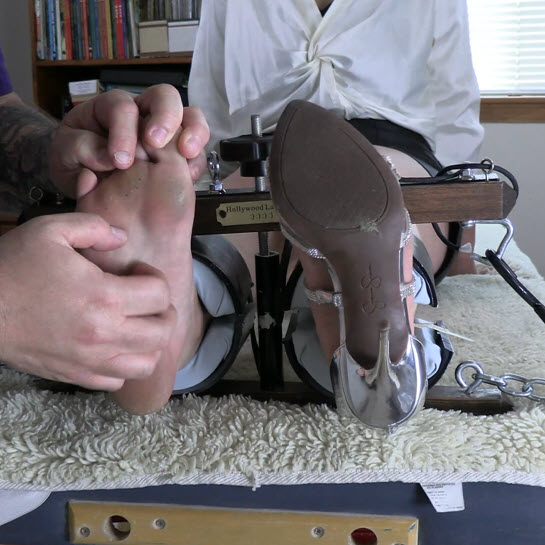 I have some incriminating photos of Caroline that she doesn't want anybody to see. I invited her over to show her the photos and get her to agree to submit to me on my terms. Little does Caroline know that I have a fetish for tickling and she is going to truly earn getting these photos back. Locked into the stocks I tease her and her feet as I remove each of her high heels exposing her 8 ½ sized feet and tickle them with fingers, feathers, electric dental tools, and mouth. She endures a little over 14 minutes of tickle torment.
Available August 14th, 2022

Caroline is in her blouse and skirt tied to the table. Her body vulnerable to me and open to my torment if it means the photos won't get released. Her tight belly with a cute belly ring is a heavy target of my tickling attack as well as her inner thighs. I can tell she is getting turned on from the heavy tickling as she feels vulnerable and helpless. I tickle with a number of instruments in this clip. You won't want to miss this one.
Available August 16th, 2022
If you like begging and bound bound beauties begging while helpless then this is the clip for you. Caroline is desperate to keep the photos from being seen and is willing to be tied topless for some titty tickling torment. Her large breasts bounce and jiggle as she laughs and giggles helplessly as I primarily tickle her breasts and nipples. There is some side and underarm tickling as well. In the end she is begging and pleading for it to stop willing to do anything I want. She is already doing anything I want so I guess this is just the cherry on top.
Available August 18th, 2022