Lacey is a switch from the Pacific Northwest who has never tried tickling before, let alone being tied and tickled. She talks about herself a bit and then reveals to us her experience afterwards. She did not expect it to turn her on so much which I noticed right away when I saw her reactions to her toes being sucked.
Release Date: 2022-09-27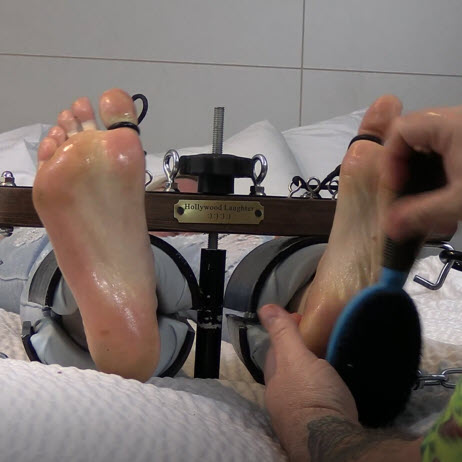 Lacey is locked in the stocks for her first tickling and foot worship scene. The scene starts off with her being tickled in her socks before the left and then the right are removed to expose her bare 8.5 sized feet, her arches pointed directly at the camera. I experiment with a variety of tickling techniques and tools to torment her. I use brushes, fingers, feathers, and my mouth to set her into gales of laughter as her sensitive soles are tickled with no hope of escape. I do a little bit of foot worship on Lacey and she discovers how much it turns her on. You can't see it in the video but she is reaching down and touching herself when I suck and lick her toes and soles.
Release Date: 2022-09-27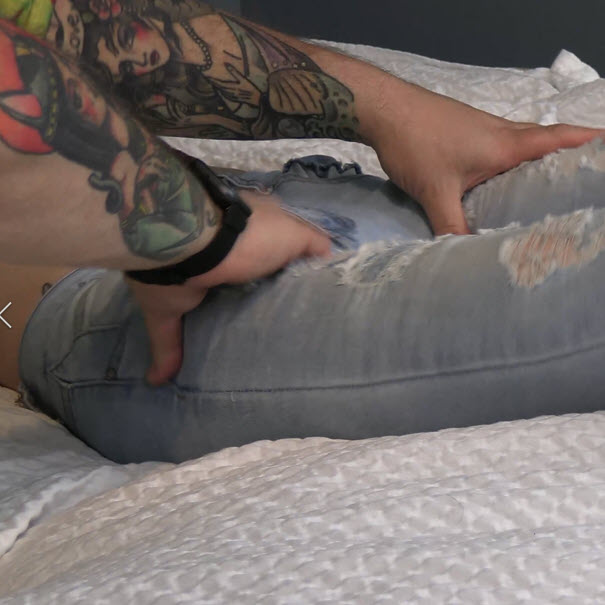 Lacey was wearing some ripped jeans which just begged for someone to tickle her there. I tickled along the tops and underside of her knees as well as slipping my finger under the frayed fabric to tickle her kneecaps. There is also a good amount of tickling on her inner thighs to her crotch. To her detriment I discover she has pockets and those pocket tickles are super hot making her squirm and laugh as she struggles to escape.
Release Date 2022-09-29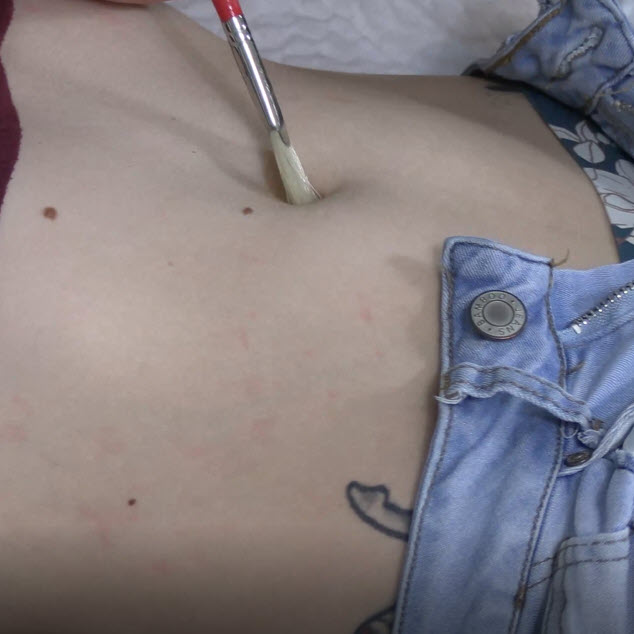 This video focuses on her tight little tummy where you can see some of her tattoos peaking out beneath her jeans. Her belly is tickled with fingers, feathers, mouth, and other tickling tools. I work her ribs a bit as well. For the belly button lovers out there don't worry I spend a good amount of time tickling her tight little belly button. There are even a few raspberries and some brief belly worship in this clip as well.
Release Date 2022-10-01
Tied down with her arms apart and naked it is time to tickle and tease Lacey. The tickling focuses on her armpits, breasts, and that bit of muscle between her breasts and sides. She is extremely sensitive and lets you know how much it tickles both through laughter and declarations. I also do a bit of nipple play teasing her nipples until she begs for them to be kissed and sucked. You can see how turned on she is by all of this torment when you get a good look at her pussy and can see how much it glistens with her excitement. She didn't expect it to turn her on so much, but soon she will be begging for me to play with her gorgeous pussy.
Release Date 2022-10-03
I noticed that all the tickling and teasing has made Lacey super horny and her pussy is so wet she can't hide it. She begged for me to tickle her pussy and tickle her pussy I shall. This clip is a combination of tickling on and around her pussy as well as me finger banging her over and over until she cums. She is turned on so much she gyrates, moans, and laughs while bound to the bed.
Release Date 2022-10-05
We're both turned on and so Lacey gives me a hand-job (not to orgasm) while I tickle, tease, play with, and suck on her feet and toes.
Release Date 2022-10-07