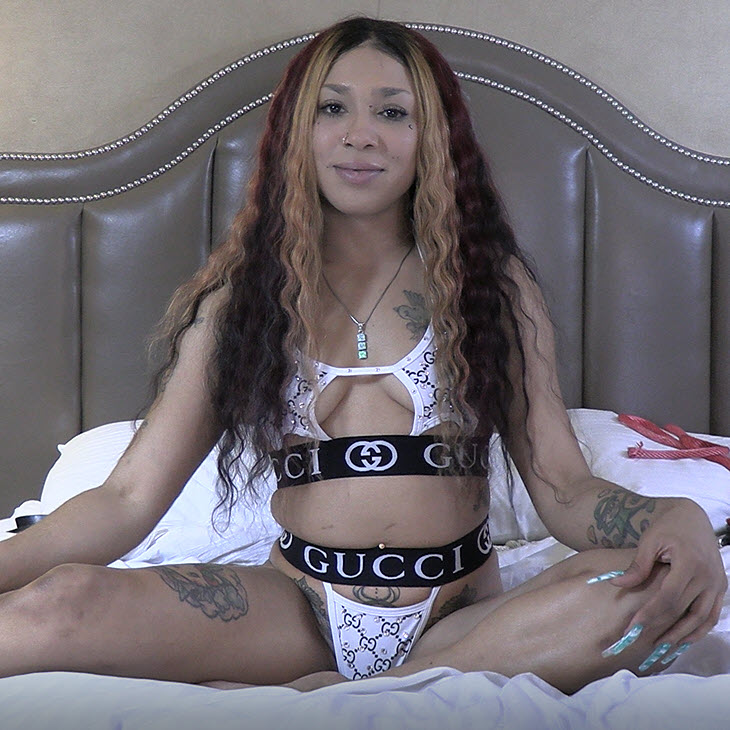 Lucckiiyou
Lucckiiyou is a Las Vegas model not new to the adult or fetish scene, but definitely new to the tickling fetish. This tattooed beauty wanted to give it a try. She is a little shy and quiet, but after a bit of tickling she opened up a lot with roars of laughter and heavy squirming.

Lucckiiyou Pre-tickling Interview
Lucckiiyou has never been in a tickling video before let alone being tied and tickled. She talks a little bit about herself.

Lucckiiyou Tickled Unbound
This is Lucckiiyou's first tickling shoot and so the first video of her is having her unbound sitting on the bed tickled from behind on her belly, ribs, underarms, belly, and thighs. She squirms trying to get away from the tickling. Reluctantly she holds her hands over her head so her sensitive armpits can be properly tickle tormented.
Release Date 2022-01-24
A Lucckii Foot Tickler
I am lucky to have tickled Lucckiiyou and you can be lucky by purchasing this video and watch her feet secure in the stocks tickled and teased for your amusement. She thrashes about giggling and laughing as her bare soles are tormented with feathers, brushes, pet gloves, and fingers. It only intensifies for her when her soft soles become slick with lube and the tickling becomes nearly unbearable for this tattooed beauty.
Release Date 2022-01-26
Lucckiiyou's Torso Tickles
From a side view shot you can see the topless tattooed Lucckiiyou tickled on her upper body. She is tickled along her sides, belly, inner thighs, breasts, nipples, hip bones, armpits, and more. She struggles and cries out in fits of laughter as she can't escape the tickle torment which is driving her crazy. The area right next to her pussy is super sensitive and drives her wild.
Release Date 2022-01-28
A Very Lucckii Ticklish Pussy
Lucckiiyou is tied with her legs spread exposing her beautiful puffy pussy. She is tickled a little bit on her pussy, but most of the tickling is in the area surrounding it. She is most ticklish to the sides of it and along the pelvic bone. You can watch her struggle and laugh as her hot tight little pussy dances before your eyes. This is some of the most intense tickling she had to endure for this shoot.
Release Date 2022-01-30
Lucckiiyou's Post Tickling Interview
Lucckiiyou shares her first tickling experience with you.