Tatty is a heavily tattooed fetish model and lifestyle submissive brat. She had never tried tickling as a form of BDSM and was convinced she wasn't as ticklish as she turned out to be, especially on her feet. Tatty talks about her career
Available 2022-10-29

Tatty knew her size 8½ feet were ticklish, but she severely underestimated how ticklish they are. Not only does it tickle like crazy, but it turns out she likes having her feet tickled. Watch her in the stocks as I tickle her bare soles and toes with feathers, brushes, fingers, assorted vibrating tools, and it gets worse when I lube them up.
Available 2022-10-29
Tatty is naked on the massage table with her feet in the stocks upturned which gives her a lot less leverage to wiggle and try to escape. You can see her ample bottom bounce and jiggle as she laughs hysterically with the tickle torment giving the audience a bit of a tease of her pretty pussy. Again she really enjoys having her feet tickled and asks nicely for more tickles. Feathers, fingers, brushes, vibrating tools, lube, and nibbles send her in to heavy laughter.
Available 2022-11-01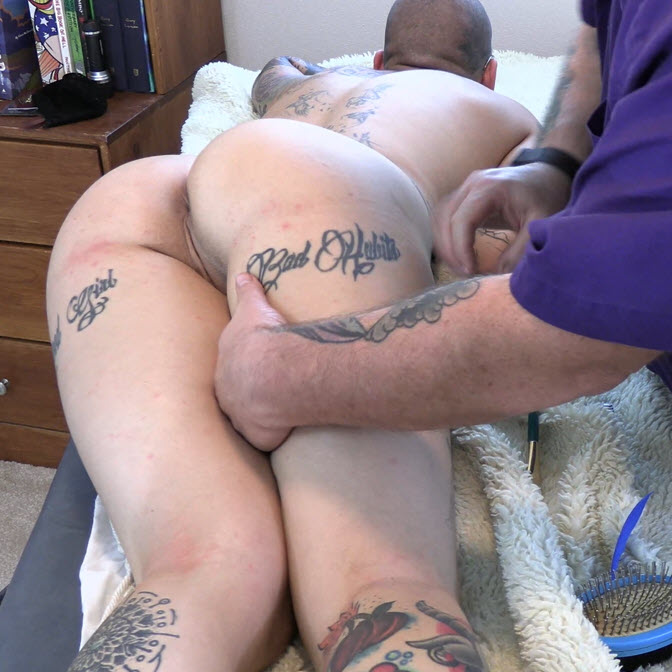 Face down and naked on the massage table Tatty is tickled on the backs of her legs, ass, and inner thighs. There is some side and hip tickling as well. All of which sends her into wiggling to escape and gales of laughter as she is tickled and teased without mercy.
Available 2022-11-03

This clip was an intense tickling of Tatty naked and face up on the table. I cover everything from her ears to her hips. There is tickling of breasts, hips, belly, nipples, underarms, upper ribs, and neck. This is part one of three clips where she is tickled with minimal breaks for nearly 20 minutes. She thinks the torment has stopped, but it is only a brief reprieve before her helpless body is tickled to hysterics over and over. The full length clip of her torment will be released the day after all three parts are available for sale.

Part 1 Available 2022-11-05
Part 2 Available 2022-11-07
Part 3 Available 2022-11-09
Full Clip available 2022-11-10