Tigerlily talks about her experience with bondage and kink and how she felt after her first tickling shoot though not her first time being tied and tickled. She enjoyed the experience of being helpless and tormented.
Available August 7th, 2022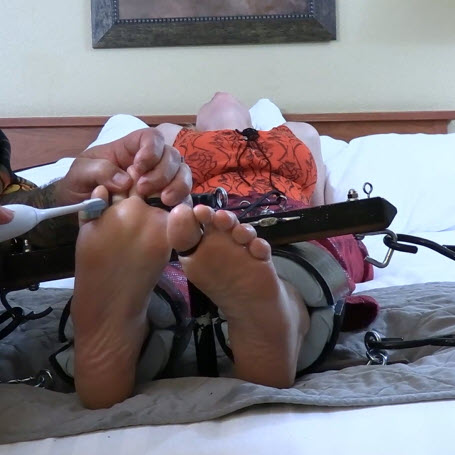 Her size 10 feet are bound in the stocks as she is first tickled in socks before they are removed one by one. Her large soft feet are tickled and teased with a variety of tools, helpless to stop the torment.
Available August 7th, 2022
Tigerlily in her bra and butterfly panties is tied with her hands behind her back and legs bound. She is tickled on her ribs, belly, inner thighs, and other locations. She struggles and laughs hysterically as she is tormented helpless to escape.
Available August 9th, 2022
Tigerlily has amazing naturally large breasts. As she is tickled on her breasts and nipples she laughs and squirms causing her big breasts to bounce in a way that will hypnotize you and draw you in to her suffering.
Available August 11th, 2022
Tigerlily is face down with her legs loosely bound as her beautiful peach of an ass is tickled and teased. Her cheeks jiggle and bounce as she delights in the torment on her bountiful behind.
Available August 13th, 2022